HOTEL:
Package price includes staying in the standard 5-star hotel one room with twin beds adjustable for two people. We also provide breakfast, lunch, and a candlelight dinner. Package price does not include personal expenses for beverages, tips, clothes laundry in the Hotel
VEHICLES:
The package includes vehicle facilities according to the need of people visiting. We can arrange the Flights, car, jeep, costar, and bus for traveling. All vehicles are luxury to travel with AC
APPLICABLE FEES:
 Our package includes all applicable fees for seven days of sightseeing. That includes entry fees to visit Historical world heritage sites, sunrise views, mountain flights, religious places visit, and educational zone visits.


PERSONAL GUIDE:
An experienced package guide will be kept in touch with you once you check in at the Kathmandu International Airport and until you check out. Your personal guide will be available without any additional charge that excludes personal tips. They will be with you in your every new experience sharing lots of collective information related to the complete sightseeing package.
Day 01: Arrival at Kathmandu International Airport (1,300m /4,264 ft)
Upon our arrival at Tribhuvan International Airport (TIA) in Kathmandu, we will be warmly greeted by a representative from Everest Pioneer Trek Nepal. 
After completion of our custom formalities on arrival visa. we pick up our luggage and look for our representative with the Everest Pioneer Trek Nepal Trekking display board at the arrival gate. We will be then escorted to 5 Star Hotel Yak & Yeti or a similar category hotel. After check-in, either we visit  Everest Pioneer Trek Nepal's official site where we meet with our trekking guide, or hang around the city. In the evening, there will be a welcome dinner hosted by Everest Pioneer Trek Nepal at The Nepali Restaurant Bar & Lounge. For dinner, you will be served excellent authentic Nepalese cuisine which will introduce you to the Nepalese food culture.
Included meals:D
Day 02: Kathmandu: Sightseeing and Trek Preparation

Today after breakfast we start a guided tour to several of the most historical and spiritual attractions in Kathmandu. Some of these landmarks are considered World Heritage Sites;
 including the historic Durbar Square, the sacred Hindu temple of Pashupati Nath, the famous 'Monkey Temple' (Swayambhunath), and the Buddhist shrine (BouddhaNath) which is one of the large Stupas in the world. At noon, there will be a pre-trip discussion where we can meet our trek leader and other team members. Everest Pioneer Trek Nepal briefs us regarding our trek as well as provides us with the opportunity to ask any questions we may have regarding our upcoming adventure. Overnight at Kathmandu.
Included meals: B
Day 03: Kathmandu – Lukla – Phakding (2,652m/8,700ft): 3- 4 hours trek (Trekking times only)

After breakfast, we will be escorted to the domestic terminal of Kathmandu airport for an early morning flight to Lukla (2,800m/9,186ft), a gateway destination from where our trek begins.
After an adventurous 40-minute flight above the breathtaking green and white mountains, we reach the Tenzing-Hillary Airport at Lukla. This is one of the most beautiful air routes in the world culminating in a dramatic landing on a hillside surrounded by high mountain peaks. Upon arrival at Lukla, we meet our other crew members and after some packing and arrangements, we start our trek through the prosperous village of Lukla until we reach Phakding. To assist in acclimatization, we only have a short hike today. However, if interested in additional activities we can take a side trip to a nearby monastery. Overnight in Phakding.
Included meals: BLD
Day 04: Phakding – Namche Bazaar (3,440m/11,280 ft): 5 – 6 Hrs
Walking through a beautiful pine forest, the track leads us along the Dudh Koshi River through many suspension bridges, one of which is the famous Hillary Suspension Bridge.
First, we catch the wonderful prospect of the glistening Mt. Thamserku (6618 m). Through the settlement of Benkar, Chumoa, and Monjo, we come to the check post and entrance to Sagarmatha National Park. We pass through the last village of Jorsale before reaching Namche Bazaar. The trail climbs through the forests and bridges until we reach the confluence of the Dudh Koshi and Bhote Koshi rivers. After a final steep ascent of about two hours, we get first sight of Mt. Everest peering over the Lhotse-Nuptse ridge. Upon this juncture, we stop at Chautara to admire the view. We still need to hike for about 1.5 hours to reach Namche Bazaar, a gateway to Mt. Everest and the main trading center of this region. We stay overnight in Namche Bazaar.
Included meals: BLD
Day 05: Namche Bazaar: Rest day

This is the first of the two days set aside for "acclimatization". Health experts recommend we stay active and moving during the rest day too instead of being idle.
We either spend the day taking a day's hike to Thame or visiting Khunde or relaxing and exploring Namche Bazaar itself. Namche Bazaar is the main center of the Everest (Khumbu) region and has government offices, ATMs, Internet cafes, shops, restaurants, a bakery, and a colorful market each Friday evening and Saturday. If we trek a few hundred vertical feet during the day, it will help us to properly acclimatize. Our guides take us to the Tourist Visitor Center near the headquarter of the Sagarmatha National Park where we can observe an assortment of things related to the first Everest ascenders, and Sherpa culture, and learn about the various plant and animal life of the Everest region.
Included meals: BLD
Day 06: Namche Bazaar to Tengboche (3,870m/12,694ft): 5 – 6 Hrs

Upon breakfast in Namche, we set out towards Tengboche, enjoying a superb view of Mt. Everest, Mt. Nuptse, Mt. Lhotse, Mt. Ama Dablam, and a close-up view of Thamserku.
Our trek follows a more or less smooth trail with few ups and downs which will not bother us as the magnificent view of the Himalayas keeps us company all through the journey. Along the way, we can spot wildlife musk deer, a herd of Himalayan Thar, and multicolored pheasants. The trail goes gradually down up to Kayangjuma. The path eventually reaches Sansa, which is the major trail junction to Gokyo Valley and Everest Base Camp. The track then follows through the pine forests and after we cross the prayer flags festooned bridge over the Dudh Koshi River, we reach Phunki Thenga, a small settlement with a couple of teahouses and a small army post amidst the alpine woods. After having a relaxed lunch at Phunki Thenga, we gear up for a slightly tougher climb through the pine forests before we reach Tengboche. Tengboche is a great place for close-up views of Mt Ama Dablam, Mt Nuptse, and Mt Everest, and it has the biggest Buddhist Monastery in the Khumbu region. We pay our visit to the monastery the same day at around 3 pm to witness the ceremony in the principal and popular monastery of the Everest region. Overnight stay at a lodge at Tengboche.
Included meals: BLD
Day 07: Tengboche to Dingboche (4,360 m/14,300ft):5 – 6 Hrs

With mountains at its backdrop, the monastery at Tengboche looks more spectacular in the morning. At this juncture, we can take pictures of the monastery and the scenery around us and as usual, start the day's journey. We choose the upper trail for better views on the way to Pangboche village.
We pass through several Chortens and Mani walls and small villages. The place where we stop for lunch not only serves delicious food but also allows a fantastic close-up view of Mt Ama Dablam. In the afternoon, we walk north to Pheriche or take the eastward trail beneath the towering north face of Mt Ama Dablam. From here onwards, the walk is fairly moderate as we enter the Imja Valley. The valley gradually unfolds as we approach the confluence of the Lobuche River. We descend into the river and begin the last and steepest climb of the day up to Dingboche. On arrival at Dingboche, we will see a beautiful array of fields enclosed by stone walls to protect barley, buckwheat, and potatoes from the cold winds and grazing animals. Overnight at Dingboche.
Included meals: BLD
Day 08: Dingboche (4,360 m/14,300ft): Rest Day

We spend our second day of acclimatization at Dingboche.
A refreshing breakfast while admiring a looming Ama Dablam (6856m/ 22493 ft) to the south is really fantastic. To better appreciate Mt Ama Dablam, Mt Lhotse, and numerous other peaks visible from Dingboche, we climb the ridge on the north of the village. This will be an ideal acclimatizing excursion. Upon this juncture, we can see three of the world's six highest peaks, Mt Lhotse, Mt Makalu, and Mt Cho Yu. To the west, loom the towering peaks of Cholatse (6440 m/21,126 ft) and Taboche (6542 m/ 21,463 ft). As we look northwest, we see an array of peaks rising at the head of the Khumbu Khola valley. The Lobuche West and Lobuche East peaks are most dominant along with Lhotse which stands over 8500 meters (8501m/27, 890 ft). From a vantage point high on the ridge, we can scan the sweeping Imja Khola valley as well as the picturesque fields and pastures of Dingboche. Overnight at Dingboche.
Included meals: BLD
Day 09: Dingboche – Duglha (4,600 m/15,090 ft): 3 – 4 Hrs
We start the day with a climb to Duglha through the Khumbu Khola valley.
 The walk along the arid terrace is rewarding with awesome views of mountains on all sides. As we come to a yak herder's place called Dusa, the valley begins to narrow and we continue through Phulung Karpo, the campsite of the first successful Everest Expedition in 1953. Above Phulung Karpo is Chola Lake. As we move on, the majestic view of Mt. Pumori (7138 m/ 23418 ft) comes into view. As the trail descends and curves, Mt. Pumori disappears from view and we come across a roaring stream. After crossing a small wooden bridge, we ascend to Duglha. We can see the tip of Mt Nuptse from here as well as Mt Cholatse, Mt Thamserku, and several other magnificent peaks. Spending a night in Duglha is ideal for acclimatization purposes. Overnight at Duglha.
Included meals: BLD
Day 10: Duglha – Lobuche (4940 m/16,207 ft): 2 – 4 Hrs
Beyond Duglha, we climb up the steep terminal moraine of the Khumbu Glacier.
We pass through boulder-strewn slopes as we ascend Chupki Lara, an eerie ridge top with dramatic mountain views. At the top of the ridge, we will find an array of stones with prayer flags used as memorials to Scott Fischer (American mountaineer) and 10 times Everest submitter Babu Chiri Sherpa (a Nepali mountain guide) who perished on a mission to climb Everest. As the trail drops to the Khumbu Glacier moraine, we find ourselves facing several great peaks – Khumbutse, Lingtren, Pumori, and Mahalangur Himal. We are now in the vicinity of Everest but the great mountain still remains elusive. Mt Nuptse towers to the right as the trail crosses the Khumbu Glacier. As we pass along a murmuring stream leaving the Khumbu Glacier behind, we now begin to feel a little out of breath due to the high altitude. Overnight at Lobuche.
Included meals: BLD
Day 11: Lobuche – Gorak Shep (5,170 m/16,961ft) – Everest Base Camp (5,364m/17,594ft) – Gorak Shep: 8 – 9 Hrs

The trail to Gorak Shep goes ahead through the lateral moraine of the Khumbu Glacier. We pass through the pyramid signpost. Ahead on the trail, we see the crest of the north ridge of Everest along with Mt. Pumori, Mt. Mahalangur, Mt. Lingtern, Mt. Khumbutse, Mt. Nuptse, etc. A small ascent would take us to Thangma Riju from where we perceive a 360-degree vista of snowy mountains.
Climbing steeply up to the top through the torrent of Changri Glacier, we catch our first glimpse of Kala Patthar, a grey-green knoll beneath Mt. Pumori. As we reach Gorak Shep, we will find snow-capped mountains looming all around us including the top of the world – Mt. Everest. After a brief lunch and rest, we take the trail to Everest Base Camp through the once-vast Gorak Shep Lake. Continuing straight ahead, we come through the Indian Army mountaineers' memorials. Only upon reaching the Everest Base Camp do we really appreciate the Everest climbers who brave the hazardous route through the Khumbu icefall Mountaineer's tents stand out in bright colors against the monotony of gray surroundings (especially in the Spring). Nuptse, Khumbuste, and Pumori are the mountains we can view from the base camp. Everest actually is not visible from here. By now we have met the ultimate objective of our trip. 
However, the sunset view from Kala Patthar is more admirable than the sunrise view, so it is suggested to visit Kala Patthar today during sunset. As the setting sun's rays strike the snow-capped mountains the resulting scenery is indescribable. For those trekkers who wish to continue to Kala Patthar, our guides and Sherpas coordinate hiking to Kala Patthar for an amazing sunset view today rather than waiting until the next day. Overnight in Gorak Shep at a local lodge.
Included meals: BLD
Day 12: Gorak Shep – Kala Patthar (5545m/18,192ft)- Pheriche (4280 m/14,070 ft): 8 – 9 Hrs
Today is the climax of our trip. We start early in the morning to catch the dramatic views from Kala Patthar and witness the first light of day caress the peaks of the mountains, particularly, Mt. Everest.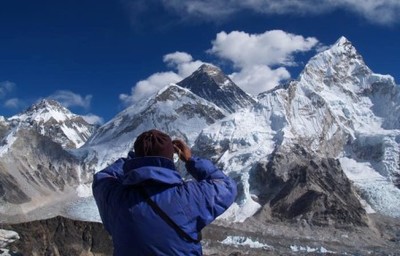 However, we need to be prepared for an early morning departure, amid predawn darkness and cold temperature (-10 to -14 C). Further, there is always the potential for chilly winds which are quite common. Familiar peaks such as Lingtren, Khumbutse, and Changtse Tower to the east even as Everest begins to reveal itself. During the ascent to Kala Patthar, we can pause to catch a breath at several outstanding viewpoints from where we can snap great pictures. After several hours of ascent, we reach Kala Patthar. From Kala Patthar, we scramble up to the top of a rocky outcrop marked by cairns and prayer flags. Mind-blowing Himalayan panorama unfolds before our eyes as they wander from one mighty massif to another. We can take as many pictures as we want with our camera but do not forget to imprint the vista into our mind's eye so that it lasts a lifetime. On being back to Gorak Shep, we have breakfast and wait for other participants to return.
Those participants who wish to visit Everest Base Camp today will have early breakfast as the hike to base camp takes longer (4-5 hrs) than the Kala Patthar hike. Upon return to Gorak Shep, the group will have lunch together. We descend in the afternoon and arrive at Pheriche in time for a good night's rest.
Included meals: BLD
Day 13: Pheriche to Kyangjuma (3,570m/11,710ft): 5 – 6 Hrs

Just after the start of our trek, we cross Khumbu Khola (stream). Following the main Everest trail down the beautifully scenic valley, we pass through the villages of Tsuro Wog, Orsho, and Shomare and reach Pangboche at the base of Ama Dablam. We cross the bridge over Imja Khola and pass through the Deboche village and reach Tengboche. We spend a brief time at the Tengboche monastery, observing its many prayer wheels. 
We cannot explore prayer altars inside as the monastery opens only at 3 pm. From Tengboche, a steep descent of about 1500ft/500m leads through rhododendron bushes and fir trees to the Dudh Koshi River. We cross the first bridge over Dudh Koshi on our return trip to Phunki Tenga. Further, we pass the village of Tashinga and Sansa before finally reaching the beautiful village of Kyangjuma. Upon arrival at this juncture, we appreciate the gorgeous Ama-Dablam, Thamserku, Nuptse, Lhotse, and Everest!  Overnight at Kyangjuma.
Included meals: BLD
Day 14: Kyangjuma to Monjo [2,840m/9,315ft]: 4 – 5 Hrs

The trail to Namche Bazar clings to the steep wooded slope beyond Kyangjuma, winding through several bends. We look out for wildlife such as mountain goats, snow leopards, and colorful pheasants while passing through the forest by the trail.
We have enough time in Namche to shop and relax in a bakery that serves coffee and cakes and provides Internet access. A steep descent from Namche Hill leads to the suspension bridge crossing the Dudh Kosi River near the confluence of the Dudh Koshi and the Bhote Koshi Rivers. We cross the Dudh Koshi River twice at separate locations before reaching Monjo. We are out of the Sagarmatha National Park after exiting from its official entrance near Monjo and finally reaching Monjo Village. Not only is Monjo a quieter place to stay than Namche, but it also means our porters have a less strenuous walk back to Lukla tomorrow. Overnight in Monjo.
Included meals: BLD
Day 15: Manjo to Lukla
Today we enjoy the last walk at a lower altitude in the Everest region. Most tracks today are flat although we will have some descends and brief ascents too.
 Today, we further enjoy a combo of open plains, rhododendron, and pine forests, and in the distant background Kwangde Peak. As we walk through the Sherpa villages, we notice the impressive display of faith in Buddhism and the cultural practices associated with it as prayer stones dot the landscape and prayer flags flap in the wind. We cross the Dhud Koshi River three times through the prayer flags that were strewn suspension bridges and also cross one of its tributaries, Thado Koshi once. The final ascent of about 45 minutes from Chheplung takes us to Lukla, where we stretch our fatigued legs and recall the experiences of the last couple of weeks. Our fantastic trek culminates on a happy note with everyone back safe and sound with faces that show happiness! This last evening in the mountains is the ideal opportunity to spend some relaxing moments with the whole crew as the porters will not accompany us to Kathmandu. Overnight at Lukla.
Included meals: BLD 
Day 16: Lukla – Kathmandu, and shopping.

Today, we fly back to Kathmandu after our long mountain journey.
The early morning flight drops us in Kathmandu. We can rest and relax throughout the day at the hotel. If we get interested to take some gifts home from Nepal for friends and relatives, we can visit some nearby shops or venture out to Thamel for typical Nepalese goods. This short excursion either can be assisted by Everest Pioneer Trek Nepal's guides or we can do it ourselves too. If we want to explore any other areas in Kathmandu, we have to manage time for this today as well! To celebrate the successful completion of our journey, we will have a farewell dinner at The Ship Restaurant Bar & Lounge where we can pick our meal from their carefully crafted menu that offers a wide range of choices. Overnight in Kathmandu.
Included meals: BD
Day 17: fly back home.

The journey within the mountains of Nepal comes to an end today! There is nothing to do but just trade emails to travel companions and organize our photos.
If we have more time we can do some shopping or sightseeing. At last approximately 3 hours before our scheduled flight, a representative from Everest Pioneer Trek Nepal escorts us to the airport. On our way home, we will have plenty of time to plan our next adventure trip to the wonderful country of Nepal.
Included meals: B 
Needs in the Trekking Checklist.
Down Sleeping bag, Down Jacket, T-shirts, woolen Sweater, Trekking stick, water bottle, tissue paper, Half Paint, Tracksuit, Trekking Shoe, woolen Cap, Sun cap, sunglass, sun cream, lip balm, Energy chocolates, Camera, Dairy book, pen, Scarp, etc.
All including needs trekking time will be good.
Best tips
. prepare Before Trek  2 months need to morning walk 1 hour will be good for health in high altitude areas.
---