HOTEL:
Package price includes staying in the standard 5-star hotel one room with twin beds adjustable for two people. We also provide breakfast, lunch, and a candlelight dinner. Package price does not include personal expenses for beverages, tips, clothes laundry in the Hotel
VEHICLES:
The package includes vehicle facilities according to the need of people visiting. We can arrange the flight, car, jeep, costar, and bus for traveling. All vehicles are luxury to travel with AC.
APPLICABLE FEES: Our package includes all applicable fees for seven days of sightseeing. That includes an entry fee to visit Historical world heritage sites, sunrise views, mountain flights, religious places visit, and educational zone visit.


PERSONAL GUIDE: An experienced package guide will be kept in touch with you once you check in to the Kathmandu International Airport and until you check out. Your personal guide will be available without any additional charge that excludes personal tips. They will be with you in your every new experience sharing lots of collective information related to the complete sightseeing package.
 Adventure Annapurna Base Camp Trek 2023
Annapurna base camp Trek is a spectacular journey on foot to the South Face of Annapurna I, a pleasant hike through the diverse Nepalese landscape and culture. On your 14-day journey you will reach the base camp of the world's 10th highest mountain, Annapurna (8,091m/26,545ft); visit several UNESCO World Heritage Sites in Kathmandu, enjoy breathtaking Himalayan vista during the trek, and experience the sunrise over the Dhaulagiri and Annapurna ranges from Poon Hill.
The itinerary for Annapurna Sanctuary Trek is designed for trekkers who wish to reach the Annapurna base camp in a relaxed manner with visits to World Heritage Sites and Poon Hill. However, for guests who are constrained time-wise, Annapurna Base Camp Trek- 11 days would be more appropriate.
Best Season 
Autumn (Sept to Nov) and spring (March to May) are the best seasons for this trek. The weather is sunny and warm with outstanding views. If you wish to avoid crowds and enjoy some alone time with nature then taking this trip during winter (Dec, Jan, and Feb) could also be an option. However, the temperature during winter could be harsh for most guests. Trekking in the summer or Monsoon seasons (June to Aug) will be affected by rain but the Summer trek could be a boon for a keen botanist.
Day 01: Arrival in Kathmandu (1,300m/4,264ft)
Upon our arrival at the Tribhuvan International Airport (TIA) in Kathmandu, we will be greeted by a representative from Everest Trek Nepal who will drop us off at our 5-star Hotel Yak & Yeti and similar. After checking in, we take a rest or visit Everest Trek Nepal's office. In the evening, there will be a welcome dinner hosted by Everest Pioneer Trek Nepal at The Nepali Restaurant Bar & Lounge. For dinner, you will be served excellent authentic Nepalese cuisine which will introduce you to the Nepalese food culture.
included Meals  : D
Day 02: Kathmandu: Sightseeing and Trek Preparation
Today, after breakfast, we start a guided tour of four UNESCO World Heritage Sites in Kathmandu. Swayambhunath is located in the heart of the city and is also called Monkey Temple by the tourists owing to the large number of monkeys in the temple area. Kathmandu Durbar Square holds the palaces of the ancient kings who ruled over the then-Kathmandu Kingdom. Pashupatinath Temple is one of the most sacred pilgrimage sites for Hindus all over the world. The Buddhist shrine of Boudhanath is one of the largest Stupas in the world and one of the holiest Buddhist pilgrimage and tourist destinations in Kathmandu. In the late afternoon, we visit Everest Trek Nepal's office for a brief orientation on our trek.
Overnight in Kathmandu.
Included meals: B
Day 03: Fly to Pokhara and trek to Ulleri [2050 m/6725 ft]: 30 min flight and 6 hrs trek
We fly to Pokhara early in the morning. We can catch amazing views of the Himalayas from the right side of our airplane. Upon our arrival in Pokhara, the beautiful lake city, we are rewarded with magnificent views of the Himalayas including Dhaulagiri, Manaslu, Machhapuchhare, the five peaks of Annapurna, and others. After taking a rest, we drive to Naya Pul and start the trek. We pass through sub-tropical valley forests, sometimes on the carved trail on the side of the cliff. After lunch, we cross the Modi Khola (river) via a suspension bridge to the village of Tikhedhunga. The Ulleri Hill with thousands of steps and boulders that continually go upward will really prove a test of our stamina. We reach Ulleri by late afternoon. Overnight in Ulleri.
Included meals: B.L.D
Day 04: Ulleri to Ghorepani (2,750 m/ 9,020 ft): 4 – 5 hours trek.
After breakfast, we ascend to the Ghorepani village. The name Ghorepani in Nepali means 'horse water due to it being an important campsite for traders before it became a trekker's stop. Ghorepani is an interesting place with small shops and stalls for selling local products and crafts. The town has two parts:
one in a saddle and the other a few hundred feet lower. We stop at the higher part of the Ghorepani village that offers panoramic views of the surrounding mountains including Annapurna South and Nilgiri mountains. Since Ghorepani lies quite higher than our previous stop, we begin to feel the chilly weather, especially in the evenings. Overnight in Ghorepani.
Day 06: Tadapani to Chhomrong (2170m/7120ft): 6 hours trek
We descend from Tadapani on a steep trail through a dense rhododendron forest. The trail opens up to perfectly manicured terraced fields. Next, ascend steadily and pass a few surging waterfalls before reaching a suspension bridge. A few more miles of an uphill and downhill trek and we reach our destination for today, Chhomrong. It is a beautiful village located on the lap of the giant Annapurna massive. Overnight in Chhomrong.
Included meals: B.L.D
Day 07: Chhomrong to Bamboo (2310m/7578ft): 4 – 5 hours.
The trail out of Chhomrong descends via 2500 stone steps and crosses the Chhomrong Khola on a swaying suspension bridge. It is an uphill climb to Sinuwa. Next, we pass through a beautiful forest to Kuldihar followed by an easy downhill walk to Bamboo. Overnight in Bamboo.
Included meals: B.L.D
Day 08:  Deurali Village Hotel
Bamboo to Deurali (3,230 meters), Duration: 3 – 4 Hours Passing through amazing lush, damp, and wet Bamboo forests that form a dense green canopy above the trail, you will ascend steadily downwards along steep sections that are cut across the hills. You reach the Himalayan Hotel and with a steep climb, you will reach the Hinku cave. From here, the trail drops down towards the river again and turns uphill to reach Deurali. Shrubs of magnolia and small rhododendron trees cover the trail and wildflowers add a colorful patina to the wet rocks along the terrain. Overnight stay at the hotel.
Included meals: BLD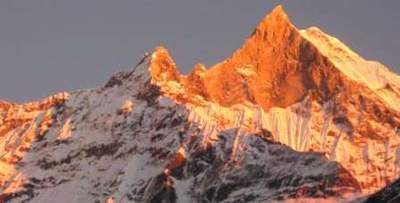 Day 09: Deurali to Annapurna Base camp (4,130 meters)
Machhapuchhre Base Camp (3,700 meters), Duration: 5 – 6 Hours Climbing gently alongside the riverbed, you will be making your way over a mountainside towards Bagar. From here, the trail ahead leads toward the Machhapuchhre Base Camp. It is a somewhat strenuous trek. From the Machhapuchhre Base Camp, the Annapurna Base Camp is situated at a distance of about 2 hours. Views of the Machhapuchhre Himal (6997m), the Himchuli Peak (6441m), Annapurna South (7219m), Annapurna I (8091m), Annapurna III (7555m), and the Gangapurna Peak (7454m) from the base camp of Machhapuchhre are quite spectacular. Along the trek through the Annapurna sanctuary, you can get a sensational
View of the near-vertical south face of the Annapurna towering above in a hauntingly beautiful way. Trekking through an amazing landscape, you will finally reach the Annapurna Base Camp from where the sights of the Annapurna massif, as well as many neighboring peaks, are splendid. Overnight stay at the Annapurna Base Camp hotel.
Included meals: BLD
Day 10: Annapurna Base Camp to Bamboo: 7 – 8 hours.
 Annapurna Base Camp to Bamboo, Duration: 7 – 8 Hours From the Annapurna Base Camp, we will retrace our steps back towards Bamboo. Trekking through the sanctuary, you can take in the moist wetland feel of the landscape, where the trail passes over small brooks and rivers and mighty trees shadow the trail overhead with branches covered in lichen, orchids, and moss. The trek back towards bamboo is downhill, so it isn't very difficult. Overnight stay at Bambo Hotel after a long downhill trek.
Included meals: B.L.D
Day 11: Bamboo to Jhinu Danda (1760m/5770 ft): 5 – 6 hours.
Bamboo to Jhinu Danda (1,780 meters), Duration: 5 – 6 Hours Tracing our steps back, we will trek uphill from Bamboo towards Kuldighar, from where we will descend down again towards the Chhomrong Khola. Climbing the stone steps once again to Chhomrong, we will follow the trail towards JhinuDada- a beautiful tranquil village that is famous for its natural hot springs. Overnight stay at village hotel.
Included meals: B.L.D
Day 12: Trek to Nayapul then drive to Pokhara, Duration: 6 Hours Trek and 1 Hour Drive From Jhinu, you will trek along the beautiful countryside towards Nayapul. Distant views of the Annapurna Mountains loom up quite dramatically and the wet farms brimming with rice plantations provide the hamlets with a rich natural pulchritude. From Nayapul, it is an hour's drive to Pokhara. When you reach Pokhara, in the evening, you can also enjoy a beautiful boat ride on the pristine Phewa Lake and explore the lake-side area where there are many restaurants that cater to many different continental cuisines as well as cultural programs. Overnight stay at a Hotel Sangri-la Resort.
Day 13: Fly from Pokhara to Kathmandu.
We fly to Kathmandu in the afternoon. The left side of the airplane offers some amazing views of the Himalayas. Upon arrival in Kathmandu, we will be escorted to our hotel. We enjoy the day leisurely or catch up on some last-minute shopping or explore any landmarks we missed during our first day in Kathmandu. To celebrate the successful completion of our journey, we will have a farewell dinner at The Ship Restaurant Bar & Lounge where we can pick our meal from their carefully crafted menu that offers a wide range of choices. Overnight in Kathmandu.
Included meals: B.D
Day 14:  Kathmandu International Airport
Our journey in Nepal comes to an end today!  Everest Pioneer Trek Nepal (p) Ltd. representative will drop us off at the airport approximately 3 hours before our scheduled flight. On our way home, we have plenty of time to plan our next adventure in the wonderful country of Nepal.
Included meals: B